Bremelanotide Update: An Aphrodisiac by Any Other Name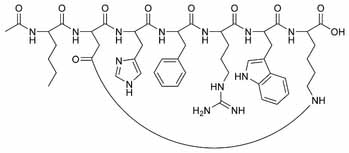 In
an earlier post on aphrodisiacs
, I discussed Bremelanotide (PT-141) and its promise as the first true aphrodisiac for both males and females. In this posting I want to update the progress in drug development for Bremelanotide.
This article
discusses the partnership of King Pharmaceuticals and Palatin Technologies, for the development of Bremelanotide.
This article
reports on enrollment in two Phase IIb clinical trials to study the safety and effectiveness of the drug for erectile dysfunction in both diabetic and non-diabetic males.
Palatin Technologies, Inc. (Amex: PTN) and King Pharmaceuticals, Inc. (NYSE: KG) announced today that the companies have completed enrollment in two Phase IIb clinical trials of bremelanotide in patients with erectile dysfunction (ED). Bremelanotide is a melanocortin agonist that Palatin and King are jointly developing for the treatment of both male and female sexual dysfunction. The primary objective of these two dose-ranging clinical trials is to identify safe and efficacious doses for evaluation in Phase III pivotal trials slated to begin in the first quarter of 2007.

Dr. Trevor Hallam, Executive Vice President, Research and Development of Palatin, stated, "Together with our colleagues at King, we are very pleased to achieve this significant milestone for these two critically important clinical trials. The data from these two studies should allow the companies to develop a robust Phase III pivotal trial program for consideration by the U.S. Food and Drug Administration."

Clinical Trial Details

The two Phase IIb clinical trials are double-blind, placebo-controlled trials that entail a one-month run-in period and a three-month treatment period. The primary endpoint for both studies is the change in the Erectile Function domain of the International Index of Erectile Function from baseline at the end of the three-month treatment period.

The first Phase IIb clinical trial is evaluating the safety and efficacy of bremelanotide in approximately 560 non-diabetic patients suffering from mild to severe ED. The second clinical trial is similarly evaluating approximately 265 diabetic patients also suffering from mild to severe ED.

Source
.
Treatment for erectile dysfunction is just the beginning. Although there are plenty of drugs on the market for treatment of ED, bremelanotide has the added advantage of increasing sexual desire and enjoyment. Viagra cannot compete with that. Although PT-141 will be sought by more men than the other erectile drugs, the real money will be in the treatment of females for sexual dysfunction.
Most young and middle aged men naturally want sex most all the time. The older they get, the longer it takes to build up for the next sexual session. Bremelanotide will help with that. But women are less ready to "jump in the sack at the drop of a dime" than men. Unless, that is, something 'pushes their buttons.' A wealthy or powerful man, a tall strong man, a man of high status or prestige . . . Or a man who somehow makes her libido rise whenever she looks at him, or is close to him.
Most men do not have access to that sort of charm. I might say they are better off that way, but they would never believe me. Not in a million years.
True aphrodisiacs will be an incredibly disruptive technology. Far more than any current addictive drugs on the white, gray, or black market. Sex is a natural high. A drug that enhances a natural high will be nearly irresistable, as long as it is safe. I suspect that PT-141 will be quite safe in moderation.
What would I like to see first, before the widespread availability of a true aphrodisiac? Effective vaccines and cures for all STD's. Clarification of the murky and labyrinthine date rape laws. And a few other things I will get to in later posts.